This week there was a rare case in the British news where a man was charged with infecting his partner with the HIV virus. The prosecution was related to Section 20 of the 1861 Offences Against a Person Act which prosecutes for grievous bodily harm where HIV is 'recklessly' transmitted during unprotected sex. The background of English STI transmission law can be traced all the way back to the Clarence case, in the 1890s, where it was decided that where consensual sex occurs there is no case for causing grievous bodily harm, and there can be no assault charge if both parties agree to have sex.
Today, as much as then, the criminalisation of STI transmission is a divisive topic. HIV and sexual health organisations generally take the stance that only intentional transmission should be a criminal offence. This is reiterated by the UNAIDs programme which suggests that governments should 'limit criminalization to cases of intentional transmission i.e. where a person knows his or her HIV positive status, acts with the intention to transmit HIV, and does in fact transmit it'. The UNAIDS policy brief on the criminalisation of HIV transmission goes on to state that individuals should not be criminalised if they don't know they are HIV positive, if they don't understand how HIV is transmitted, if they disclose their HIV status to the partner and if they did not disclose their status because of fear of violence or other serious negative consequences.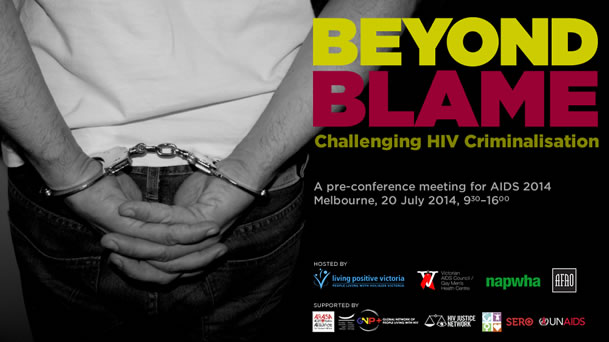 Poster for pre-conference meeting at AIDS 2014 Conference
A more useful approach
Cases where malicious, intentional HIV transmission occur are rare. For this reason it can be argued it is more useful to focus attention on effective HIV prevention, and protecting the human rights of those that are HIV positive, rather than enforcing criminalisation.  One of the dangers of criminalisation is that specific groups are blamed for transmission, such as sex-workers, drug users, people from ethnic minorities and men who have sex with men. Stigma and discrimination against these (marginalised) groups increases, especially since laws criminalising HIV exposure and transmission are often applied unfairly and selectively (e.g. against immigrants etc.). Related to this, people living with HIV are unfairly seen as responsible for prevention HIV transmission, rather than the message of shared responsibility which is the general preferred public health message.  Criminalising transmission could also have the damaging effect of discouraging HIV testing, since ignorance of one's status could offer protection from prosecution.
Finally, there is no evidence that the criminalisation of HIV transmission has any effect on sexual or drug-taking behaviours, or reduces the spread of HIV. In fact, countries where laws exist compared with those that don't show no differences in overall behaviours. For these reasons the criminalisation of HIV can undermine HIV prevention, care and treatment and actually do more harm than good.   
What are your views about the criminalisation of HIV transmission? Should individuals be prosecuted?
The GMI Partnership carries out HIV prevention work in testing and outreach sessions across London. For more information on the programme please see here.